Accounting Courses for Amazon Sellers
Create a QuickBooks Online accounting system customized to your e-commerce business that provides financial reporting you can trust.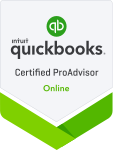 Stuck Trying to do Bookkeeping for your Amazon Seller Business?
If you're tired of spreadsheets, home-grown methods and software you can't figure out, you've come to the right place. Our courses walk you through how to set up and manage a Quickbooks Online system specifically tailored for the Amazon seller, as well as sellers on other online marketplaces such as EBay.
If you want better visibility of your books and more confidence at tax time, our online courses give you a complete roadmap of how to get started and how to stay organized.